You go to the bathroom to relax, get dressed, shower, use the toilet and have some alone time. Bathroom leaks, seepage and other problems can disrupt this time. Additionally, bathrooms frequently receive less attention than other rooms. Always make sure your bathroom is well-maintained and represents your style because it tells visitors about your hygiene habits and personality.
Perhaps it's time to reevaluate your surroundings if your current bathroom design doesn't convey the vision you have for the room.
Here are some bathroom remodeling tips. You can use these tips to improve the look and feel of your bathroom…
#1 Add plants
If your bathroom has an extra area, you might want to consider adding some plants for some added cheerfulness. Ideall, add plants around the sink area to support design etiquette and simultaneously make your bathroom look soft and comfortable. Plants have a certain uplifting energy that can quickly improve your mood and give you a spa-like experience at home. Since bathrooms typically don't get much natural light, look for plants that don't need a lot of sunlight all day. If your bathroom doesn't get enough natural light, you can also use fake or artificial plants of your choice.
#2 Differentiate wet and dry areas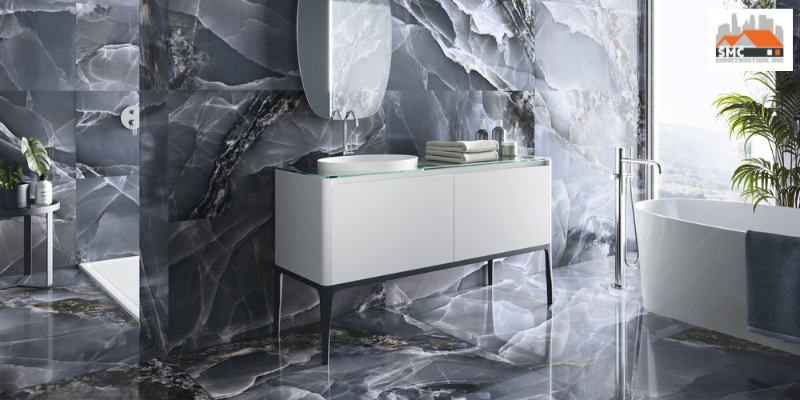 Wet and dry areas are typically separated in bathrooms. The shower area is in the wet zone, and the other part of the bathroom can be the dry area.
#3 Use tiles
The practice of tiling a full wall was not particularly popular until a few years ago. In this scenario, the bathroom walls would be painted in addition to using tiles. If the entire wall wasn't covered in tile(s) then it would result in paint flaking, permanently dirty water and other stains that would attach to the wall and make it appear odd. The current tendency is to tile the entire wall because it is not only practical and easy to maintain but also gives the walls a seamless appearance.
#4 Flooring utility and style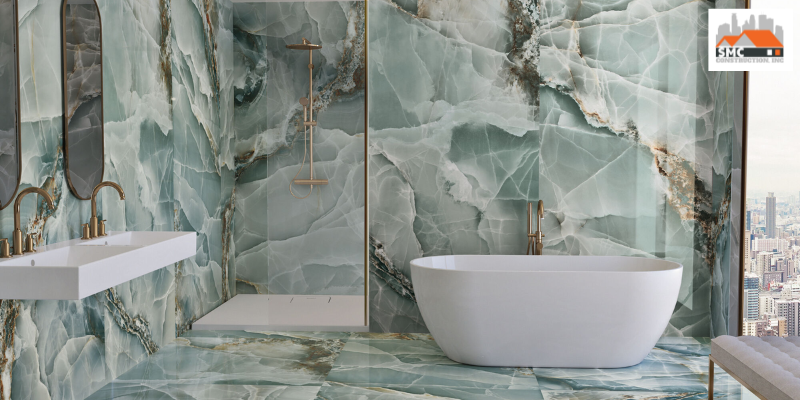 Flooring is crucial when remodeling bathrooms, especially if you have young children or senior family members. Never choose glossy tiles over those with a matte appearance. Another thing to keep in mind is that bathrooms are where germs spread the fastest, but you can also use germ-free tiles, which instantly kill 99.9% of bacteria that cause germs.
The best approach to give your bathroom a seamless appearance is to choose your wall tiles first and then a floor tile that matches them. If you don't want to change the flooring, make sure your wall and floor choices are complementary.
#5 Enhance storage
There are numerous items in bathrooms that you need to keep very hygienically stored. Items including toothbrushes, hand towels, hair brushes, toothpaste, soap, shampoo, moisturizers, etc. The aesthetic appeal of the area may be diminished if they are left out in the open, near washbasins or on top of the toilet. Instead, make sure to build cabinets or install storage racks so you can keep things neatly put away and safe from accidents and dust accumulation.
#6 Enhance the look
Bathroom remodeling is incomplete or nonexistent if the sinks and sanitaryware are not replaced. When remodeling the bathroom, changing the sinks and pots should be among your priorities. Numerous modern solutions can significantly enhance the appearance of your bathroom. Basins made of granite stone or see-through glass are examples of contemporary bathroom design ideas.
Bathrooms with low lighting might be unsettling. Invest in decent lighting. Ambient lighting essentially illuminates the whole bathroom without highlighting any single space.
Summary:
Redesigning a bathroom can be challenging and time-consuming. If you do it correctly, you can design an environment that you will like being in and be proud of– and SMC Construction can help you figure out a plan! Call SMC Construction at 763-400-0251 for more information.