Your kitchen is, without a doubt, one of the most essential rooms in your home. It is in the kitchen that you prepare your meals, gather your family and entertain family and friends. Therefore it is necessary to maintain it and keep it in good condition at all times. It is indeed true that remodeling your kitchen can make the center of your home more comfortable, convenient, and modern.
Simple Small Kitchen Remodeling Ideas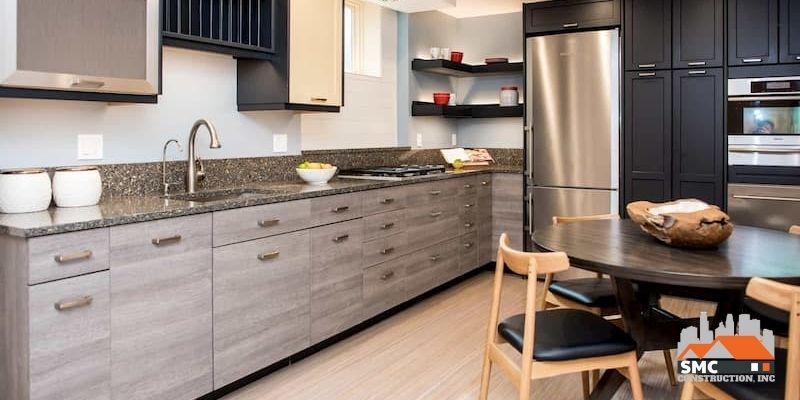 One of the areas of a home that gets buyers' attention when real estate shopping in the kitchen. It's a place that signifies love and warmth– it's the heart of the home. Homebuyers can make their decision based on the kitchen's layout, the type of cabinets, or even the color of the walls. Even if you're not planning on selling anytime soon, you want to enjoy the room in your house that gets the most use.
Here are some simple kitchen remodeling ideas for you to consider…
1. Make use of bold cabinet designs
You can make quite a statement by placing cabinets in your kitchen. It doesn't matter if they are upper or lower cabinets. They can give your kitchen an aesthetic appeal. To make your kitchen appear larger, you can make use of white cabinets or simple wood cabinets.
You can even go further to customize the cabinets of your kitchen to reflect your taste. To achieve this for a contemporary kitchen, select from a variety of cabinetry designs with a Mediterranean pattern. For a modern kitchen, you can choose sleek designs with glass or laminated doors.
If you love art, go for decorated or textured glass panels. Ensure that the designs are sophisticated so that you will feel serene when you look at them and comfortable in the room. With a personal touch, you can drastically change the look of your kitchen.
2. Add a kitchen island
You can make a big difference by putting a kitchen island in your kitchen. Even though slabs and countertops are helpful, a kitchen island can help open up the space even further, and at the same time still create an illusion of closed functionality. What this implies is that you can change the floor plan of your kitchen and open the walls to it.
Additionally, you can have your kitchen overlook the dining area or living room. This way, you can still be part of the conversation when you cook for friends or family. Having a kitchen island will give you more space for laying out cooked items and spreads.
You can further double this space by having open shelves on the sides for your butcher block. You can also use it to hold other smaller objects that you may need for meal preparation.
3. Use uncommon storage spaces and shelving
The modern kitchen has gone past having boring storage spaces and open shelving. With innovative kitchen remodeling ideas and new interior design plans, you can elevate your kitchen's functionality and liven it up.
If your kitchen is large, installing a kitchen island with storage and befitting cabinetry won't be enough. You should further add hanging storage facilities for easier access. This will work for a small kitchen as well. Hanging open shelves can provide the storage space you need.
Additionally, the pantry area is a place you should not neglect. Storing your food in the kitchen cabinets may seem easier, but it may not be able to accommodate bulk purchases. As a result, install a pantry room in a little space. It will enable you to store more food and supplies for a longer period.
4. Add a touch of metallic hardware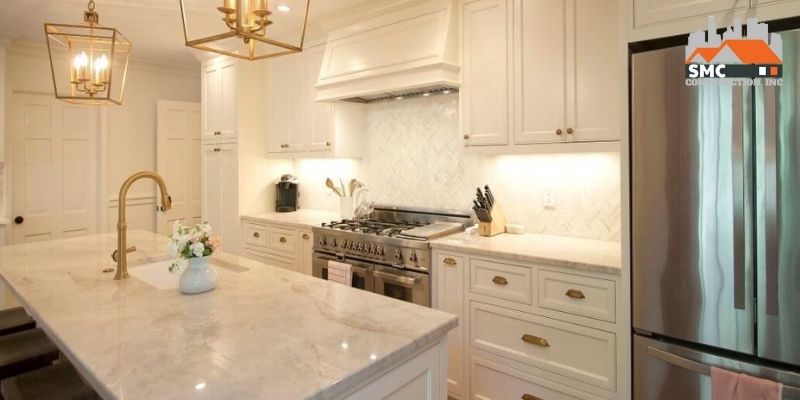 A good way to add flair to the design of your kitchen is by putting up metallic structures. Metallic hardware fits into almost everything, regardless of your kitchen's design theme. Whether your look is modern, contemporary, or rustic, merging a stainless steel metallic sink with other appliances in your kitchen is easy and quite seamless.
To further improve the aesthetic of your kitchen, add a stainless steel faucet to it. The stainless steel will help keep your kitchen sink protected because of how often it is used. If added, the stains on the sink will come off, and it won't rust easily as well. As a result, your kitchen will be hygienic and appear clean.
Metallic hardware is a great remodeling idea if you are a homeowner looking to sell your home. It enables potential buyers to see and imagine what their kitchen will look like, knowing that they do not have to do much to the space.
5. Use quality materials for countertops
Commonly, people overlook the quality of material used in making countertops and cabinets. Perhaps they want to save money on these things while spending more on interior designs so that their kitchen can look pretty. However, this concept is faulty. The countertop of your kitchen gets a lot of use when you are cooking, when your family tosses everything on it and when people sit around them.
Therefore, ensure that your kitchen's countertop is made with quality materials. This will help avoid breaking, chipping, or cracking under pressure. Granite and marble countertops are good value for the price. However, they can crack, chip, and hold onto germs because they are porous. One option that is even better is quartz countertops. They make for a durable solution and they are almost unbreakable. Additionally, it is near impossible for quartz countertops to breed germs in the cracks because of their hardy exterior. This quality will ensure that your kitchen is hygienic and clean at all times.
Conclusion
Kitchen remodeling is a great way to create a customized space and make new memories in your home. If you are planning to spruce up your kitchen, consult the expert team at SMC Construction by calling 763-400-0251.