About 90% of falls in the home happen in the bathroom, and frequently they happen when getting in or out of the bathtub. Walk-in bathtubs have feature doors with a simple opening. This will save you from having to walk over the side of a regular bathtub. These choices reduce the danger of falling and are safer for the disabled or elderly. The bathtub doors have a perfect seal to prevent water from leaking or flooding the floor. For walk-in bathtubs, you need the support of expert installation service providers.
The advantages of walk-in baths for elders are as follows…
#1 You Can Overcome The Lack Of Movement
Walk-in baths might be an excellent alternative if your mobility is impaired. Getting into and out of a modern walk-in bathtub is simple because of its low step entry barrier of a few inches. You can easily get in and take a seat.
A safety walk-in tub may be a perfect way to make bathing as easy and fun as possible for bathers who use walkers, scooters or wheelchairs at home. Others are just concerned about falling and find it difficult to get over the high edge of traditional tubs.
Walk-in baths can have a durable seat that complies with ADA standards, non-skid surfaces and safety grab bars.
#2 Hydrotherapy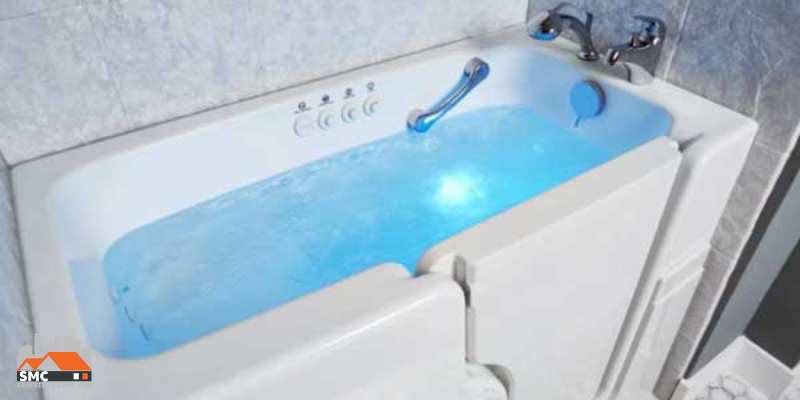 Have you ever questioned why older citizens frequently exercise in swimming pools? Hydrotherapy is the solution.
Since the time of the ancient Egyptians, using water to relieve pain has been an accepted medical practice. Advanced hydrotherapy options for walk-in tubs include whirlpool jets and therapeutic air jets. These systems can relieve pain by combining heat, buoyancy and massage. Customers who frequently purchase walk-in bathtubs have symptoms of circulatory problems, arthritis, fibromyalgia and other conditions.
#3 Reducing The Expense Of Slips And Falls
The CDC documents the cost of falls among older individuals. These expenses seem to increase as the elderly group continues to grow in size.
A large number of bathroom falls is a big worry for the growing older population. The numbers are astounding. For instance, a fall injury costs $35,000 on average. Consider the entire expenditures and related issues connected to falls when thinking about purchasing a walk-in tub.
In-home falls happen 90% of the time in the bathroom. With walk-in bathtubs, you can reduce the seniors' hazards from slick ceramic baths. When bathing, the security of a ground-level threshold paired with non-slip surfaces gives comfort and certainty. Don't take a chance on a fall; Walk-in tubs with doors can considerably lower the dangers.
#4 Helps To Manage Hygiene
Maintaining personal hygiene might be difficult when bathing becomes more demanding. How often do you take a shower today?
When washing is difficult, cleaning wounds and inflamed skin can be challenging.
Some types of baths are equipped with a bidet to make it easier to remain clean in those awkward spots.
Walk-in bathtubs make it simple to maintain the bathing schedule and excellent hygiene practices.
#5 Independence
There is no good reason to give up your privacy as you grow old. Seniors who use walk-in tubs can continue to shower and bathe independently. Additionally, as people get older, more and more seniors choose to live in their own homes rather than in retirement or nursing homes. It is possible for such a mindset to be supported by customizing your bathroom to preserve your freedom.
#6 Preparing For The Future
Walk-in bathtubs are a wise financial decision. Your quality of life will be improved for years to come when you have confidence in yourself and your loved ones and freedom and dignity when using the bathroom.
Summary:
Bathing should be a relaxing experience for everyone, regardless of age or mobility limitations. SMC Construction of Minnesota can remodel your bathroom so that it has a safe walk-in tub/shower; Call 763-400-0251 for details.