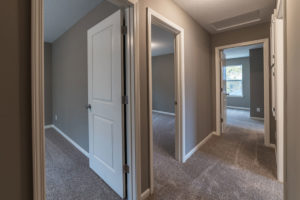 The pandemic creates new demands on homes. Parents need space to do their jobs, kids are attending classes remotely, and everyone – at some point – wants to have some privacy.
Zillow predicts that since the pandemic altered what homeowners value (zillow.mediaroom.com, June 22, 2020).
As people spend more time at home during the pandemic, buyers are realizing which features of their homes are working, and not working.
Home builders predict open-concept floor plans will be a thing of the past, as people now value more walls, doors, and overall privacy.
Citing a recent survey they conducted with The Harris Poll1 they found 27 percent of those surveyed said they would consider moving to have a home with more rooms — one of the top reasons for considering a move — after spending more time at home because of coronavirus orders. And expectations are these needs will continue after the pandemic recedes.
Zilllow found people are wanting more privacy, and expect to see:
more doors – especially for home offices
more insulation for noise control
separate spaces to keep the kids busy while parents work
However, the open-concept living may not vanish completely, but will be done differently in the future to give buyers the best of both worlds – privacy and openness. Zillow design expert Kerrie Kelly says features like barn doors will continue to be popular, as they give people privacy while preserving an open-concept space, allowing rooms to serve multi-purposes for a variety of ever-evolving activities.
Another change will be ways to incorporate separate spaces in homes to keep germs away from main areas. For example, adding mud rooms to garages as a space to take shoes off, wash hands and get clean before even entering the house. The coronavirus has increased the need to keep the home clean and free of germs, so there's likely to be an increase in double masters or ensuite guest bathrooms as well to keep guest germs away from the rest of the house as much as possible.
Kelly also predicts smart-home features like touchless faucets, bidets, and self-cleaning toilets will become increasingly popular, as the pandemic emphasizes the importance of keeping spaces as clean as possible.